As a premiere marketing company, Family Affair Distributing has had the distinct honor of working with many corporate clients. Our attention to details and presentation, our superior customer service and our ability to work with almost any budget and produce a pro-active, direct and targeted marketing campaign, is the reason that many companies choose to work with us.
---
Project Goal
Corporate awareness program designed to stimulate new business opportunities for Loui Milo Chocolat.
Solution
Loui Milo Chocolat is a purveyor of fine chocolates and desserts. They want to expand their market penetration and develop increased corporate clients. With the goal of generating short and long-term new business, Family Affair Distributing developed a strategy whereby we sent a customized box of assorted cookies to a select list of corporate prospects.
Products
-Customized box and ribbon imprinted with Loui Milo logo
-Insert card including contact information and company description
-Samples of Loui Milo cookies
---
Simons Center for Geometry and Physics (Stony Brook University)
Project Goal
Increase recognition in the academic and scientific communities
Solution
The Simons Center for Geometry and Physics is a center for theoretical physics and mathematics at Stony Brook University in New York. The Center attracts many interested students and guests to their facility, and they wanted to demonstrate their appreciation for the interest shown by these visitors. Family Affair assisted them in selecting a handsome polo shirt and a mug personalized with the Center's logo both designed to reinforce their name and position in the academic and scientific communities.
Products
-Polo shirts with embroidered logo
-Mug
---
Goal
Offer branded toys at the LICM gift shop to stimulate happy memories and return visits to the museum
Solution
Family Affair worked closely with LICM to provide items that would meet the museum's high standards for quality. Items needed to be fun, cost effective and provide mental or physical stimulation. Each selected item has the distinctive LICM logo printed prominently on its surface. The result is a variety of toys that children across various age categories can enjoy.
Products
-6″ pail and shovels
-Jump rope
-Maracas
-Paint set
-2 pk jumbo chalk
-Acrylic magnets with logo
---
Courtyard by Marriott/TownePlace Suites by Marriott
Goal
Continued visibility and brand recognition
Solution
Striving to remain a key player in the saturated hospitality marketplace Courtyard by Marriott provides their sales representatives with promotional items to use as leave-behinds when they visit with clients and prospects. Identifying items that were well suited for an office (and hence keeping the Courtyard name visible on the client's and prospect's desks), Courtyard by Marriott opted for several cost-effective items that would have a big impact. Mouse pads and sticky note pads remain popular choices for many companies and a coffee mug and tote bag are always perfect and especially for a company involved in the hospitality space. The beautiful engraved Herman Miller clock was used for holiday gifts.
Products
-Non-Woven Tote Bag
-Full Color Graphic Mouse Pad
-Full Color Sticky Note Pad
-10 Oz. Ceramic Mug w/ Spoon
-Full Pot Coffee Mug Stuffer w/ White Foil Packaging (Printed Label)
-Howard Miller Medina Glass Curved Rectangle Clock
---
William E. Law Funeral Home
Goal
Recognition in the marketplace
Solution
William E. Law is a family owned funeral home and they asked Family Affair to suggest items that they could give to the families of the deceased. The items had to be tasteful and subdued and had to be suitable for their type of business. With this in mind Family Affair created a folder, pouch and document holder to help the families manage the paperwork associated with planning a funeral. William E. Law also distributes personalized pocket calendars and business cards to church members and there are customized information cards in the funeral home itself. All of the items have the same understated look yet reinforce the name and brand of the funeral home.
Products
-Document Case w/ Plastic Snap Closure
-Nylobank 70 Memorial Portfolio (T212w) (13″x10″)
-Non-Woven Tote Bag
-Information Cards
-Pocket Calendar Book with Pen
-Linen Folder
---
Greater Long Island Dental
Products
-Navy blue 15 lb weight towel with translucent imprint
-16 oz acrylic tumbler with accented straw and imprint on both sides
-Spray/fan
-Breath strips
-Dental floss card with mirror on back
-1 oz. antibacterial lotion in a bottle
-All natural Sunblock Roll On
-Tooth Shaped Mint Container with sugar free mints
-12 Piece blister pack of sugarless gum
-Boat bag tote with handles and matching imprint
---
PALS (Patient Airlift Services)
Goal
Increased awareness and visibility
Solution
PALS is a not for profit and they wanted to stimulate heightened awareness of their organization. Working with Family Affair they identified a variety of cost-effective items that would appeal to various demographic segments. The items included a coloring and activity book (with crayons) for the ill children flying to their treatments, flexi phone case, brandband bracelet (very popular) and multi-color nail file filled with pictures from PALS photo gallery. They also ordered hot/cold tumbler sets as a way to show their appreciation and recognition of their Board. As always, items were personalized with the organization's logo.
Products
-7″ Multi-Color Nail File
-Flexi Phone Case (Full Color Digital)
-Aviation Adventures Coloring and Activity Book w/Crayons
-Colorview Hot/Cold Tumbler Set
-Brandband Bracele
---
Star CNC Machine Tool Corp
Goal
Trade Show giveaways as well as appreciation and recognition gifts for clients
Solution
Star wanted to reinforce their visibility in the marketplace and establish greater recognition for their industrial machinery. Creating a high impact program for this customized audience was challenging and Family Affair rose to the occasion by creating a replica machine-shaped customized USB drive that was of one of the machines that they sell. To further reinforce the Star brand, Family Affair also developed multiple items that included a star shaped giant clip, stylus pen, lanyard, smart phone charger with two ports and a smaller memory USB with domed printed area for full color imprint. These items are all personalized with the company logo and have helped to generate increased awareness in the target prospect market.-
Products
-4 GB USB Drive customized to look like the machine they sell-
-2 GB Swivel USB Drive with domed imprinted area
-1" lanyard
-Star Shaped Giant Clip
-Smart Phone Charger for the Car with two ports
-Pen with stylus logo
---
This was for a tradeshow for camp directors.
Products
-7-1/2″ Megaphone Glow-In-The-Dark
-Whistle with Compass
-Thermometer and Split Ring and Carabiner
-Full Custom Microwave Popcorn Bag
-12 Piece blister pack of sugarless gum created as a business card for each sales person
-3/8″ Polyester Lanyard with Metal Hardware
---
Long Island Conventions and Visitors Bureau
These gifts are always for event planners when the sales staff go to a tradeshow.
Goal
Reinforce visibility and generate increased events in the Long Island region
Solution
The mission of the LICVB is to enhance Long Island's visibility and they specifically target event producers and planners. Family Affair was asked to develop an ongoing program that would be used by LICVB's sales team when they attend tradeshows and meet with their prospect universe. Family Affair needed to pick items that were cost effective as well as light and highly portable. Several of the selected items played on the idea of travel to the region (neoprene luggage gripper and mini beach chair cell phone holder) and they received positive feedback by the sales staff as well as the recipients.
Products
-15.5 Oz. Glass Bistro Transparent Coffee Cup w/satin frost imprint
-Neoprene luggage gripper
-Mini Pocket Recycled Note Pad with Colored Strap
-Mini Beach Chair Cell Phone Holder
---
Gifts for Vanguard funding were for specialty events such as a fair, stain sticks to PTA moms and basic give aways for clients and prospects.
Goal
Brand recognition
Solution
Vanguard Funding is an ever growing mortgage bank that needed a variety of items to use as promotional giveaways at various street fairs, trade shows, etc. The items had to be cost effective and appeal to a diverse prospect market. Family Affair sourced a variety of items for Vanguard Funding and created a program that included many popular items such as a stain stick personalized with company logo in a white tube aimed at PTA membership, a BIC non-adhesive cube (3″x3″x3″), brass metal plunger action pen with velvet holder, a 5-1/2″ tambourine w/neon top and a slim contoured design used to give to children at a street fair & plunger-action retractable pen. All of the items were personalized with the company's logo and were deemed to be a hit!
---
-Plastic Mint Card resembles a credit card and dispenses Sugar-Free Peppermints.
Twist action plastic stylus pen with brightly colored grip and silver coated barrel.
-Fully compatible with all capacitive touch screens. Leatherette pen holder filled with chocolate covered almonds in an organza bag.
-The X-Cube is decorated with a full color Liquid Lens imprint that protects your logo & message under a resin layer resisting scratches and fading.
Pen Caddy was a holiday gift, other items were for tradeshow and networking gifts.
---
Goal
Client appreciation and Pavemaster brand reinforcement
Solution
Pavemaster attends select trade shows and conferences on a regular basis and was interested in obtaining a variety of items that would increase their brand recognition and visibility. Since Pavemaster does a considerable amount of work in the construction industry, they decided to utilize a construction "theme" for their items. Family Affair selected several products shaped like construction cones and also included a back scratcher and massager (received very well by workers with bad backs!)
Additionally, Pavemaster worked with Family Affair to come up with a holiday gift for select clients. Family Affair identified the Leatherman Wingman Tool Kit because of its high perceived value. This gift was a tremendous hit!
Products
-19″ Deluxe wooden bamboo back scratcher with massage roller.
-Construction Cone stress reliever
-Leatherman Wingman Tool Kit
-Pocket Sticky Note Memo Book – Construction Cone
-16 oz. Double Walled Carnival Cup and one 14 oz.
-Double Walled Tourist Tumbler (packaged in a white gift box not shown in picture)
-Pens
---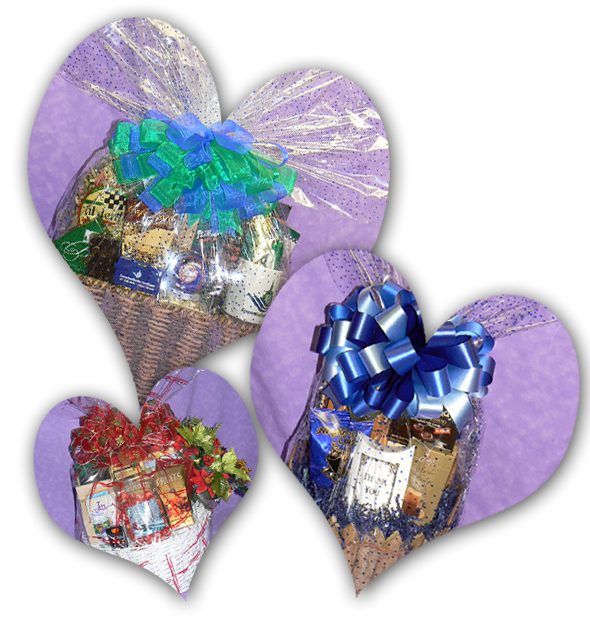 We can construct a variety of different gift baskets for any occasion or event:
-Birthdays
-Get Well
-Sympathy
-Newborn Baby
-Custom-branded for business
-Thank you
See More Gift Baskets Here!
---